The September membership meeting for the Coastside Democratic Club was a look at the issues around water on the Coastside. Held at the lovely Klein home in El Granada, two excellent speakers provided thought-provoking information for Club members in attendance.   
Kellyx Nelson, Executive Director of the Resource Conservation District, spoke about the RCD and its programs and services to the Coastside community. The RCD is a special district that provides assistance to private and public landowners wishing to best manage their natural resources.  The RCD helps the Coastside be resilient to drought, flooding, and climate change as well as working to restore habitat for wildlife, to improve water quality, and more.
Cathleen Brennan, Water Resources Analyst with the Coastside County Water District. She began by explaining how her agency functions, and then talked about the current drought, mandatory water conservation, alternative water supplies and El Nino. She went into some detail about alternative water supplies, including talking about groundwater, graywater, recycled water, storm water catchment and backflow prevention. There were many questions and comments from the audience.
The Club Board has voted to allow members to form caucuses in support of various Democratic presidential candidates during the primary process. Of course, once the Party has selected a candidate, the Club will support that person. The caucuses will be listed on the web site along with ways to reach each caucus.
Board Members have volunteered to lead the caucuses. For Bernie Sanders, contact Dennis Paull (dpaull@svpal.org), for Hillary Clinton, it's Barbara Dye (blkdye@gmail.com), and for Martin O'Malley, contact Kathy Klein (kathyrklein@hotmail.com). 
OUR SPEAKER HAS HAD TO POSTPONE HIS TALK. WATCH THIS SITE FOR DETAILS ABOUT THE RESCHEDULED EVENT.
Climate Change is real and is affecting our planet in many negative ways. The question is how individuals can make a real difference on this issue of global significance. The Coastside Democratic Club meeting on November 14, from 3-5 pm, will help answer this question with a presentation by Gary White from the Gore Climate Reality Project that will provide practical solutions and individual and political steps to make a difference.
With what has been called "the most important climate change meeting in history" coming up this December in Paris, concerned citizens are encouraged to come and learn about what can be done regarding climate change. The meeting will be held at a private home in El Granada (1076 Columbus St.; see map below) and will include Gary White's presentation, questions and a social hour.
Gary White is a locally-based climate activist who was trained by Al Gore and his Climate Reality Project. As a Climate Reality Leader, Gary educates and motivates people on the climate crisis. Prior to becoming active in the movement to address climate change, Gary worked as an HR & Corporate Social Responsibility executive for 30 years in high tech in the Silicon Valley at companies such as Apple, Intuit, and Palm. He is a member of the San Mateo Rotary Club and lives with his wife of 15 years in Belmont.
The Coastside Democratic Club provided a very successful information and voter registration booth at the HMB Pumpkin Festival. Led by Board Member Dan Haggerty, the Club registered or re-registered a total of 96 people over the two days.  The Club also accepted donations for pins and bumper stickers for the three major candidates for the Democratic nomination for President.
Dan Haggerty commented "I believe it was an enjoyable experience for all, and it was an relatively easy task for me to take on, but it would not have been successful if it were not for the volunteers that helped me at the booth.  Thank you to Dennis Paul, John Lynch, Fran Pollard, Sabrina Brennan, Frank and Doreen Garrity, Deborah Penrose, Barbara Dye, and Harvey Rarback for following through on your commitment to help our club."
Those who might be interested in helping with future voter registration efforts should email Dan Haggerty at Coastdemdan@gmail.com.
Led by Club member Dan Haggerty, efforts are underway to register additional voters on the Coastside. Booths have been hosted at the Farmers' Market and the Fish and Fleet Festival with good results. The Club will also have a booth in front of the Zaballah House at the Pumpkin Festival in Half Moon Bay. Volunteers are needed to help with this important effort! Contact Dan if you can help!
We plan to post occasional articles that may be of interest to our members. Here is one recommended by Dennis Paull.
The Revolt Against the Ruling Class by Robert Reich

<http://robertreich.org/post/125702366950>
Don't confuse this for the public's typical attraction to candidates posing as political outsiders who'll clean up the mess, even when they're really insiders who contributed to the mess.
What's new is the degree of anger now focused on those who have had power over our economic and political system since the start of the 1980s.
Included are presidents and congressional leaders from both parties, along with their retinues of policy advisors, political strategists, and spin-doctors.
Most have remained in Washington even when not in power, as lobbyists, campaign consultants, go-to lawyers, financial bundlers, and power brokers.
The other half of the ruling class comprises the corporate executives, Wall Street chiefs, and multi-millionaires who have assisted and enabled these political leaders – and for whom the politicians have provided political favors in return.
America has long had a ruling class but the public was willing to tolerate it during the three decades after World War II, when prosperity was widely shared and when the Soviet Union posed a palpable threat. Then, the ruling class seemed benevolent and wise.  
Yet in the last three decades – when almost all the nation's economic gains have gone to the top while the wages of most people have gone nowhere – the ruling class has seemed to pad its own pockets at the expense of the rest of America.
We've witnessed self-dealing on a monumental scale – starting with the junk-bond takeovers of the 1980s, followed by the Savings and Loan crisis, the corporate scandals of the early 2000s (Enron, Adelphia, Global Crossing, Tyco, Worldcom), and culminating in the near meltdown of Wall Street in 2008 and the taxpayer-financed bailout. 
Along the way, millions of Americans lost their jobs their savings, and their homes.
Meanwhile, the Supreme Court has opened the floodgates to big money in politics wider than ever.  Taxes have been cut on top incomes, tax loopholes widened, government debt has grown, public services have been cut. And not a single Wall Street executive has gone to jail.
The game seems rigged – riddled with abuses of power, crony capitalism, and corporate welfare. 
In 1964, Americans agreed by 64% to 29% that government was run for the benefit of all the people. By 2012, the response had reversed, with voters saying by 79% to 19% that government was "run by a few big interests looking after themselves."
Which has made it harder for ordinary people to get ahead. In 2001 a Gallup poll found 77 percent of Americans satisfied with opportunities to get ahead by working hard and 22 percent dissatisfied. By 2014, only 54 percent were satisfied and 45 percent dissatisfied.
The resulting fury at ruling class has taken two quite different forms.
On the right are the wreckers. The Tea Party, which emerged soon after the Wall Street bailout, has been intent on stopping government in its tracks and overthrowing a ruling class it sees as rotten to the core.
Its Republican protégés in Congress and state legislatures have attacked the Republican establishment. And they've wielded the wrecking balls of government shutdowns, threats to default on public debt, gerrymandering, voter suppression through strict ID laws, and outright appeals to racism.
Donald Trump is their human wrecking ball. The more outrageous his rants and putdowns of other politicians, the more popular he becomes among this segment of the public that's thrilled by a bombastic, racist, billionaire who sticks it to the ruling class.
On the left are the rebuilders. The Occupy movement, which also emerged from the Wall Street bailout, was intent on displacing the ruling class and rebuilding our political-economic system from the ground up.
Occupy didn't last but it put inequality on map. And the sentiments that fueled Occupy are still boiling.  
Bernie Sanders personifies them. The more he advocates a fundamental retooling of our economy and democracy in favor of average working people, the more popular he becomes among those who no longer trust the ruling class to bring about necessary change.  
Yet despite the growing revolt against the ruling class, it seems likely that the nominees in 2016 will be Jeb Bush and Hillary Clinton. After all, the ruling class still controls America.
But the revolt against the ruling class won't end with the 2016 election, regardless. 
Which means the ruling class will have to change the way it rules America. Or it won't rule too much longer.
All 41 cities, special districts and school districts in the county have approved a resolution for an all-mailed ballot election.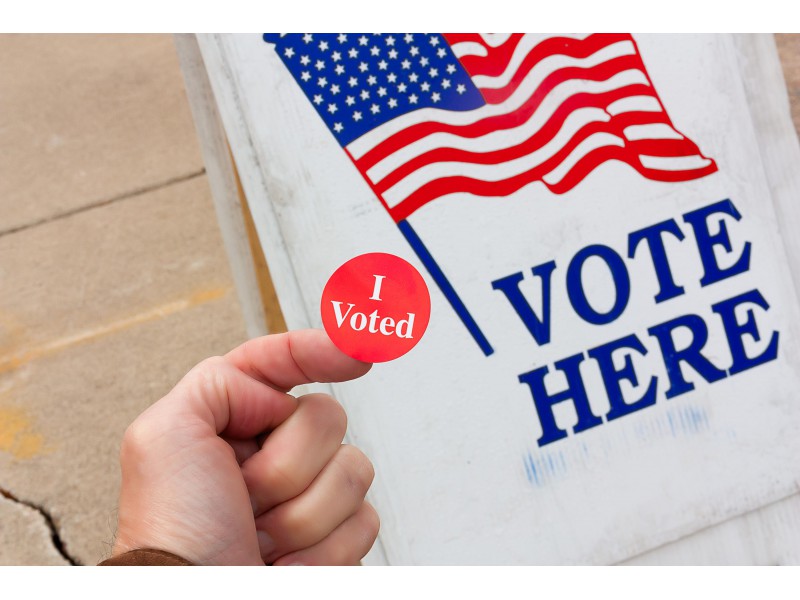 Photo via Shutterstock
By City News Service
San Mateo County is on its way to become the first county in California to hold a countywide all-mailed ballot election, city officials announced Friday.
Forty-one cities, special districts and school districts in the county have approved a resolution for an all-mailed ballot election for the upcoming Nov. 3 consolidated municipal, school and special district election, according to city officials.
California Governor Jerry Brown signed into law Assembly Bill 2028 on Aug. 15, 2014, authorizing San Mateo County to conduct up to three elections wholly by mail in an all-mailed ballot pilot program, city officials said.
The bill requires every jurisdiction calling for an election to include the approval of the vote by mail in a resolution to the Secretary of State.
The Secretary of State must receive the resolutions 88 days prior to the election. For the November election, the deadline is Aug. 7, city officials said.
"Conducting the November 2015 Local Consolidated Election by all-mailed ballot will be good for San Mateo County," Mark Church, Chief Elections Officer and Assessor-County Clerk-Recorder said in a statement. "It most likely will increase voter participation by as much as ten percent and save taxpayers close to $1 million."
Polling places will be full voting centers with the ability to issue a ballot to any registered voter in the county. This will allow voters to go to any polling place in the county on Election Day, providing more in-person voting options than previous elections, according to city officials.
There will also be one drop off location in each city beginning 28 days before an election, city officials said.
Coastside Democratic Club is seeking help with the activities for the coming year. Please take a look and consider whether you could donate a few hours a month to support causes you believe it. The email address for each committee chair is at the end of the description, though they are not live to prevent spamming. Just cut and past them to send a message. We are looking forward to hearing from you!
Publicity & Media Committee – Barbara Dye (responsible for informing the public and membership about Club activities; website, newsletter, facebook) – blkdye@gmail.com

Mem

bership – Dennis Paull (responsible for supporting the membership)- dpaull@svpal.org

Program – Kathy Klein (responsible for planning Membership meetings and activities) – kathyrklein@hotmail.com

Legislation – Harvey Rarback (responsible for informing the membership about relevant political matters) – harveyhmb@gmail.com

Finance – Kathryn Slater-Carter (responsible to produce and monitor a yearly Club budget) – kathryn@montara.com

Volunteers Activities – Doreen Gerrity (responsible for outreach & involvement with other agencies or organizations for benefit of good will for the Club as well as working  with a Young Democrats group. CoChair needed for this committee) – doreen23@comcast.net

Voter Registration – Dan Haggerty (responsible for organizing voter registration drives for the Club) – coastdemdan@gmail.com
Letter sent in support of the Harbor District:
July 13, 2015
Subject: SMCHD MSR & SOI Update
To: LAFCo Commissioners and Executive Director
From: Coastside Democrats Board, William Kehoe, President
Honorable Commissioners and Executive Director Poyatos On behalf of the Board of the Coastside Democrats,
I wish to inform you that we are in full support of the duly elected Harbor Commissioners and feel that they need to be given an adequate amount of time to correct the mismanagement of past administrations. Many of us have been working over a decade to clean up the harbors both physically and financially through the electoral process and we see the new Commissioners working to accomplish our shared goals. Coastside Democrats requests that LAFCo maintain the SMCo Harbor District sphere of influence and support the voters of San Mateo County.
There are many just points raised in both the SMC Grand Jury Report and the LAFCo MSR & SOI Update, a few of which we support and wish to emphasize are listed below:
Improvement of infrastructure and facility, better maintenance and capital projects to enhance the safety and operations of the harbor.

Implementing a capital improvement plan and accounting system, including a five year ‐ Capital Improvement Program (CIP) that is reflected in the budget.

Add a cost accounting system to track cost for enterprise versus non-enterprise.
Keep in mind that many of the grievances mentioned in your update have been ongoing for a decade or more and are the results of previous administrations. The newly elected Harbor Board (Jan 2015) has already taken steps to bring cost controls to the District:
Stop paying Health Insurance Benefits for Commissioners, upon commencement of reelected Commissioner's new term of office.

The board voted unanimously to support relocating the District's headquarters near Pillar Point Harbor.
And the new board voted unanimously to designate the Harbor District as the lead agency in the sand replenishment effort at Surfer's Beach. As you may know, had previous Boards or San Mateo County taken this action when the community requested it many years ago, the County would not be in the position now of scrambling to shore up Hwy 1 at this location at a great cost to the California taxpayers.
There are other issues which you should consider, as referenced in your update, when you consider your service review. You cite 56430 (a) (2) "The location and characteristics of any disadvantaged unincorporated communities within or contiguous to the sphere of influence". As you know, Pillar Point Harbor on the San Mateo County coast is a major source of jobs both in the fishing industry and the tourism trade. Over half the population on the Coastside resides in the unincorporated area surrounding the harbor. There are many people dependent on the health and functions of a strong Harbor District, as well as many visitors to this area.
The County, due to its structure, complexity and breath of services, has historically been unable to meet the specific needs of each of its unincorporated neighborhood communities. Likewise, we think it will be unlikely to balance and adequately prioritize the competing demands of a harbor district. Let me remind you that Granada Sanitary District (Granada Community Services District) and the Montara Sanitary District (Montara Water and Sanitary District) were formed to provide the unincorporated communities with needed services when the County decided not to do so.
Finally, any discussions on changing the structure and make up of the Board will be monitored carefully and will be scrutinized to ensure that the will of the voters of San Mateo County is not undermined.
Please include this letter in the Commission packet.
Sincerely, William Kehoe President, Coastside Democrats